Happy No-Code year!
Launch updates from Nocoloco 🔥
Hi There 👋
Madhuri here to wish you a happy new year, finally after 56 long months in 2020. The greeting, "Happy New Year" does not even cut it! We need something more dramatic to convey how we survived in 2020. IDK, maybe the Queen song, We are the Champions would be the official song of the year, 2021 🙈
No matter the turmoil in 2020, learning No-Code last year changed my life:
1️⃣ Learned how to ship products quickly and iteratively. 
2️⃣ Gave me the courage to step outside of my comfort zone.
3️⃣ Provided me with an opportunity to help people with No-Code & Design.
4️⃣ Contribute & grow our business in Xperian
5️⃣ Found a focus area for my career.
6️⃣ Found a community to be a part of and contribute to.
7️⃣ Launched 30+ No-Code Projects
8️⃣ Finished 90 Days of continuous learning No-Code in Public.
9️⃣ Found New clients & revenue streams for our business.
🔟 No dependencies on developers to ship and launch our ideas.
This year, if you're looking to launch your own products consider the No-Code approach. We've just opened up a New year deal at 20% off on the No-Code jumpstart for 10 spots. Use this link (Code: NEWYEARNOCO).
---
Are you learning No-Code already?
Learn how to learn any No-Code tool in 20% of the time using the Pareto principle.
Read the article here on Hackernoon.
---
Are you learning Carrd, now?
We're launching an in-depth course on how to use Carrd and launch your own products and websites. Course launches on Jan 8th 2021.
Pre-Order the course at $49.99 for a limited time →
Check out what you will learn below ↓
What people are saying about the course:
Ever wondered how to master
Carrd.co
and stretch your limits?
@Iruhdam24
is a fantastic no-code builder who has just announced a new course, check it out: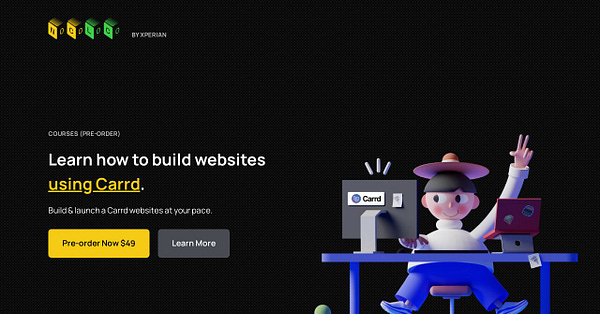 Course of Carrd
Learn how to ship products & websites using Carrd.
course-of.carrd.co

Congrats
@Iruhdam24
on the launch. Looks like a ton of good content. What I'm especially interested in to see more of is building a subscription website with
carrd.co
which it looks like you cover.
Madhuri 🌞 @Iruhdam24
1/ Pre-Order Launch: Carrd Course 🚀 After working with @carrd for almost a year, we finally started to put down how we built products and websites in one course. We love @webflow but @carrd made it super easy for us to test, iterate and get started with a low $ cost.
Course launches on Jan 8th 2021.
Pre-Order the course at $49.99 for a limited time →
---
We have a lot more planned this year to help you build, launch and validate your businesses using No-Code.
Until next time!
Madhuri