Jumpstarting into No-Code? Read this.
Condensing 4+ Years of learning about No-Code into a single program.
🚨Pre-Order Launch🚨
If you ever tried to Google and learn anything in Design, Product Management and now No-Code you know it's confusing. No wonder we keep wondering how do I learn to use No-Code tools, build and launch. Finding signal in this noisy world will be harder and especially in newly evolving fields like No-Code.
Our No-Code Jumpstart Program aims to reduce this confusion and provide clarity for anyone considering No-Code.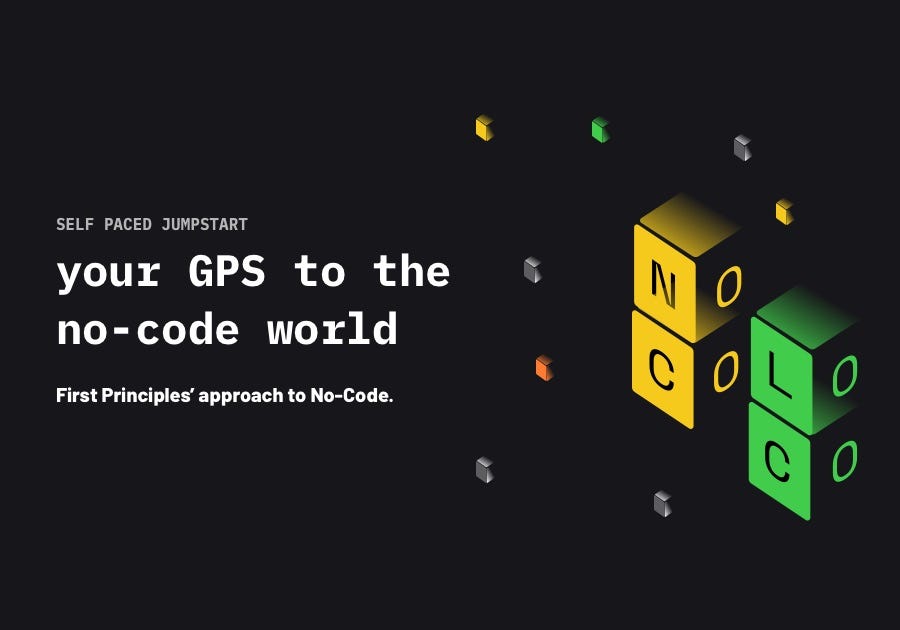 Who is this program ideal for?
If you fall into these categories below then consider this program as your drone view that allows you see the full coast before you pick a spot to settle or go deeper into.
🚴‍♀️ Product Manager/Designer
👩‍💻 Considering No-Code Career
🧗‍♂️ Entrepreneurship & Startups validating MVPs
🏄‍♂️ Content Creators and Community Owners
🙆‍♀️Freelancers and Design Agencies
What will you learn and get in this Program?
Learn what is No-Code and which to context to use it in.

Learn about the vast landscape for No-Code.

Approach using first principles.

Save 100+ hours in figuring out about No-code using the strategic guides & templates to build your ultimate no-code stack.

12+ Hands-On Case Studies to learn and ship products using No-Code.

Curated Deals & Guides to further your learning in No-Code.

You can pre-order now at 20% off and get it at a discounted price of ₹8,799 or $119.87 (Original price: ₹10,999/ $149.99)
Use code: PREORDERNCJS
---
Why should you listen to us?
Karthi and Madhuri will be your instructors during this self paced program and you will be benefitting the learning we have made through these 4+ years of exploring No-Code. Checkout value we could get out of No-Code for our business Xperian ↓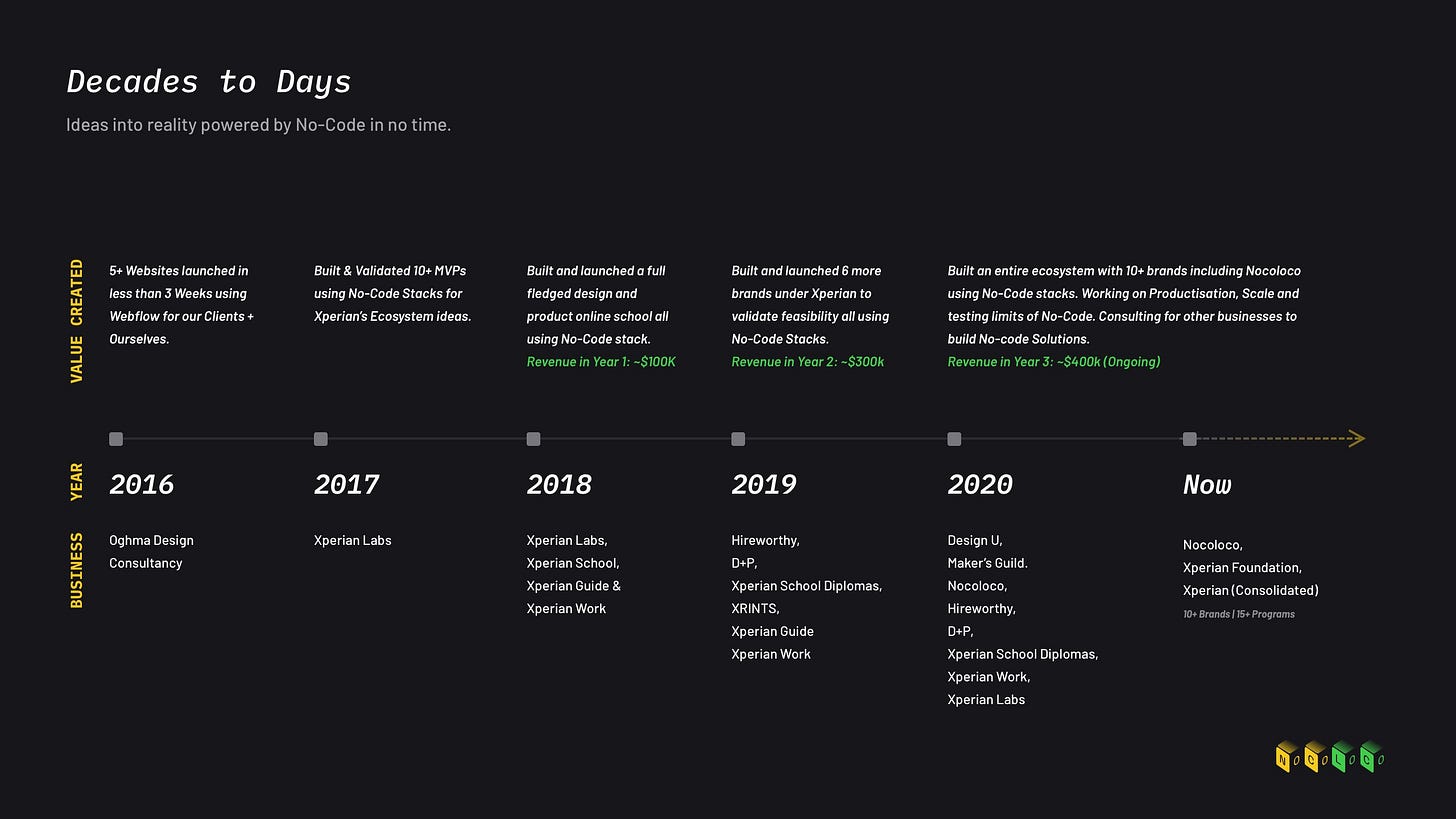 Meticulously thought and Refined
When thinking with first principles and esp in a new subject, the context of no-code needs to be addressed. We worked on opening up aspects of Product making, design and where does No-Code fit in all this. In the process, we opened quite a bit to first batch of students.
Further we spent 2+ MVPs and 100+ days to build this program for 50+ Students and launched the first program on July 5th 2020.
Student Experience
Read about the experience Kiran attending the No-Code Jumpstart Session and more such students here (link 🔗)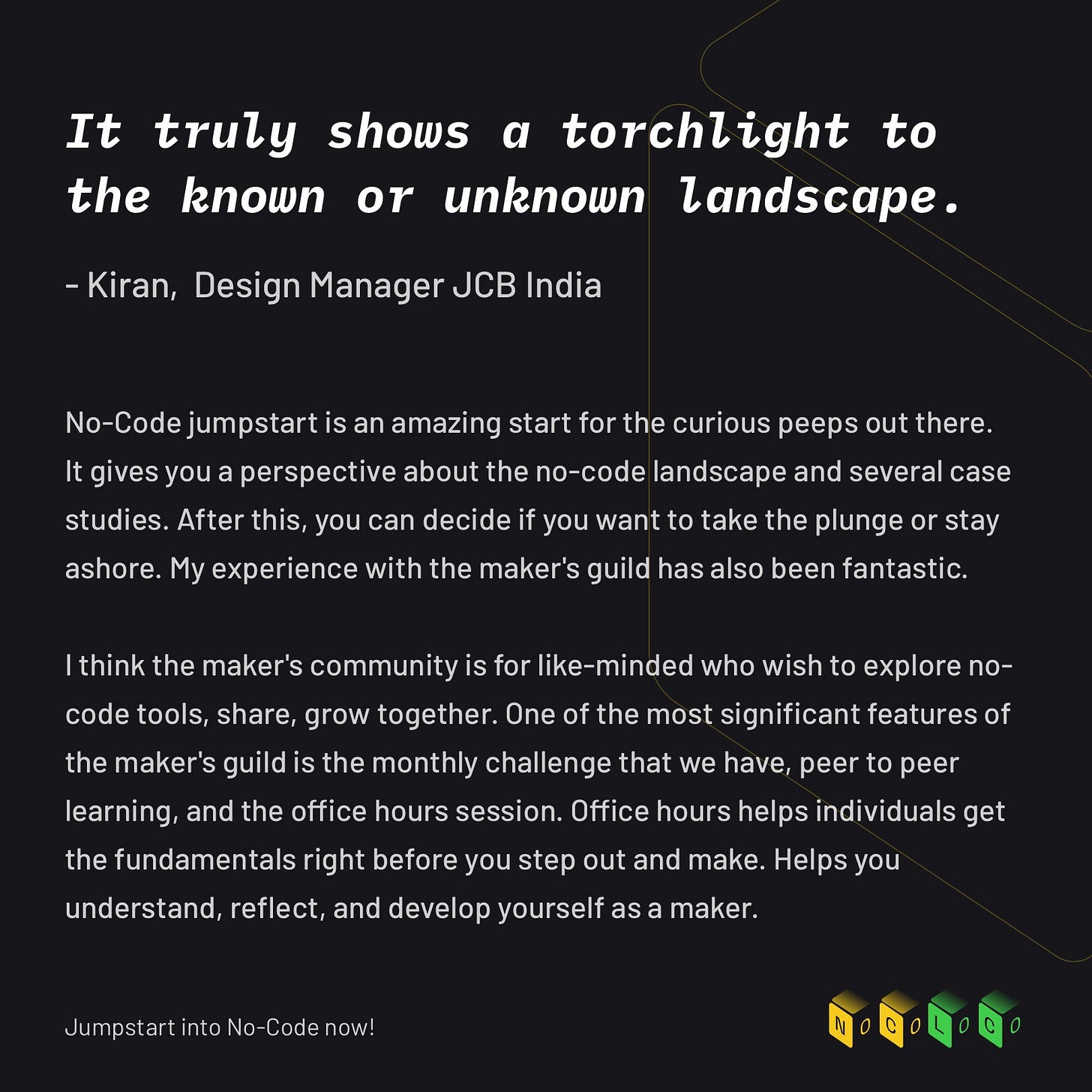 ---
When is the program releasing and how much does it cost?
No-Code Jumpstart program is releasing on 7th Nov 2020 and
it costs ₹10,999 or $149.84.
You can pre-order now at 20% off and get it at a price of ₹8,799 or $119.87
Use code: PREORDERNCJS
---
If you have any questions about the jumpstart program, please reply to this email and I'm happy to answer anything that's on your mind.
– Madhuri