Pareto of Learning No-Code & New Case Study ✨
How to actually learn a No-Code Platform in 20% of the time.
You're getting this email because you've asked to be notified about Nocolo.co Newsletter either through Substack or via Nocolo.co
What is Pareto Principle?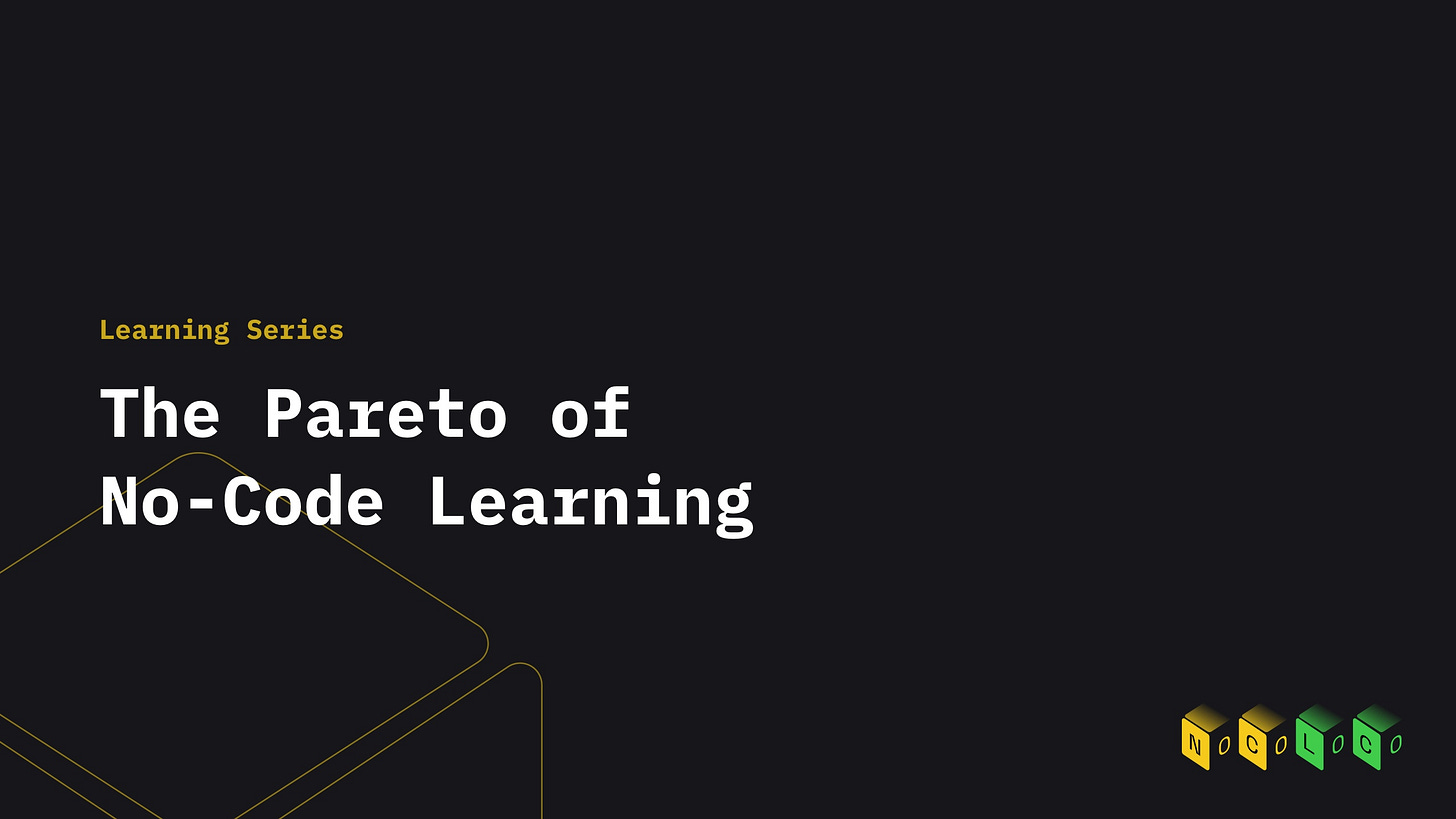 The Pareto principle, also known as the 80/20 rule, is a theory maintaining that 80 percent of the output from a given situation or system is determined by 20 percent of the input. The principle doesn't stipulate that all situations will demonstrate that precise ratio – it refers to a typical distribution.
Basically, you spend 20% of the time as input and get 80% of output. When you begin to approach No-Code, it takes a lot of time to learn. It's harder because, you are figuring out your idea, design, workflows & eventually you also have to learn about No-Code platforms to implement your idea. This is an inefficient and Ineffective way of learning & executing your ideas. 
I came up with these learnings and systems after building with No-Code products for 15+ months. Here's a quick tweet thread:
Clarity on No-Code Platforms
A fundamental clarity every maker needs to have is:
👉 No-Code platforms are not made for design, they are only made for execution. You need to be ready with design, workflow and product strategy before you even jump into No-Code.
👉 No-Code Platforms are designed for work with how technology actually works like, you need to be aware of basics of Interfaces before you jump in.
Constraints for Learning
When I started with #noco30d for nocolo.co I wanted to learn about Adalo or Bubble in the following constraints:
Explorations are to be done in less than 3 days.

Explore all options and constraints of the No-Code Platform.

Get an overall understanding of how workflows & data works in that platform.
Based on these points I started to develop a simple system for the same; Here let's look at it with example of Music App.
Step 1: Start with Simple App Idea
Start with a basic Music app, something familiar. Make a music app which has the following aspects:
Artist Page with basic details

Album Page with 2-3 Songs from each album.

Playing the Song

Relations showing the artist has albums & the albums has related artists.
Step 2: Work with Data
When you work with data you actually understand, how any platform handles the data and wether it can actually fit your context.
For example: I learned that Adalo does not give me an option to show my data as Time, only currency was available.
Setup your data in a spreadsheet. Setting up a spreadsheets allows you to see the details and the connections in your information (View how a spreadsheet can be setup).
Here is the data for you to practice:
Get on Google sheets
Step 3: Imitate existing Design
I was able to build out Music app quickly using a familiar layout like Spotify and make workflows using the above Data. It really helped in understanding the constraints of the No-Code platforms.
For example: I realised that Adalo did not really handle responsiveness well & had issues with alignment once published (See the final result).
Step 4: Final Decision Time
Once you conducted this simple experiment:
If you see that the platform has more potential, you should invest more time in learning the nuances and making more workflows.
If not, choose a different No-Code Platform and see if it fits your needs by repeating the same experiment.
Your Context
Learning is highly dependent on context and motivation. There is a difference between being a No-Coder and shipping a project using No-Code.
The above method works for Learning more about a platform & also to ship your project. If you are looking for learning no-code to become a No-Coder, you need to shift your strategies.
How to maximise your No-Code shipping and learning?
Define a project.

Gather the data that your product needs.

Design the workflows of your product.

Working with timelines and ship consistently.
Being a No-Coder means a lot more and deserves more detailed posts of its own.
---
New Case Study: Little Black Book
I have been a long ardent user of Little Black Book which practically allowed us to find cool cafes and brands that I never knew in and around India.
We had a great time chatting with Dhruv, Co-Founder of LBB on how they use Retool, Webflow and Airtable internally and also to ship to customer quickly.
This a particularly important case study if you are a startup or an organisation and looking for effective and efficient ways to improve collaboration and effective working among teams.
Learn how Little Black Book, a Discovery startup uses No-code to effectively and efficiently using No-Code.
Check it out & share your thoughts with us & subscribe 😉
Any questions or thoughts regarding No-Code?
Reply to this email and we'll get back to you!
Happy No-coding,